Olivet Blue Mountain Site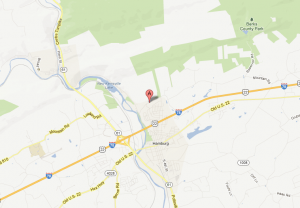 Xanodria Productions, Inc. hosts most of its games at Olivet Blue Mountain Campground in eastern Pennsylvania. This site is within minutes of Interstate 78 and is convenient from Philadelphia, New York City, Allentown, Harrisburg, and most of New Jersey, eastern Pennsylvania, Maryland, Northern Virginia, and Delaware.
'175 Mountain Ave, Hamburg, PA, 19526' is a fairly reliable address to use for online map sites (google, mapquest, yahoo). The road can be shown as both "Ave" and "Road" – the street sign usually says "road", but Ave seems to work better for online sites.
---
From the South
Take I 81 North to I 78 East towards Allentown.  Follow directions from Route 78 below.
From New England
Take I 287 West over the Tappen Zee Bridge.  After the bridge, take I 287 South via exit 15 towards New Jersey.  Take I 78 West via exit 21B towards Easton, PA.  Cross into Pennsylvania, staying on I 78 West.  Follow directions from Route 78 below.
From New York City
Take the George Washington Bridge from the New York metropolitan area to the New Jersey Turnpike.
From New Jersey Turnpike
In southern New Jersey, the New Jersey Turnpike exit 6 will take you to the Pennsylvania Turnpike.  Follow directions from the Pennsylvania Turnpike.
In northern New Jersey, The New Jersey Turnpike connects with I 78 West towards Easton, PA (exit 21B).  Take I 78 West into Pennsylvania and follow directions from I 78 below.
From Pennsylvania Turnpike
Take the Pennsylvania Turnpike to the Northeast Extension (I 476).  Take the Lehigh Valley exit, exit number 56 (shortly after the Allentown Service Plaza).  Merge onto I 78 West.  Follow directions from Route 78 below.
From I 78
Take the Hamburg exit, exit 30 (formerly exit 10). Once off the exit, you will be on Main Street. Follow Main Street for ¼ mile until you come to the Hamburg Market on your right. Make the hard right turn immediately after the Hamburg Market. This puts you onto Port Clinton Road. Follow Port Clinton Road through the stop sign and under the highway. Make the second right onto Mountain Road. After three tenths of a mile, look for Olivet Blue Mountain Campground on the left.